Family Tree - Matilda Oxford
August 9th, 2010 (10:59 pm)
Matilda Oxford was my great-great-grandmother; although she herself was born in Blandford St Mary in Dorset, she was of a long-established Sturminster Marshall family. During the course of the 19th Century the trend appears to have been net movement out of the village and towards Wimborne as people left the land.



The next logical stage for many families was to the industry and relative anonymity of Poole, and this was where Matilda - perhaps without her illegitimate first-born - spent most of her adult life. To my grandmother Vi and her siblings, Matilda was known as "Gran Cole", and Vi lived with Matilda and her husband Edward Cole, rather than with her own parents, from a very early age.

The diagram below shows some of the cousin marriages which formed Matilda's ancestry during the hundred and fifty years before she left the village.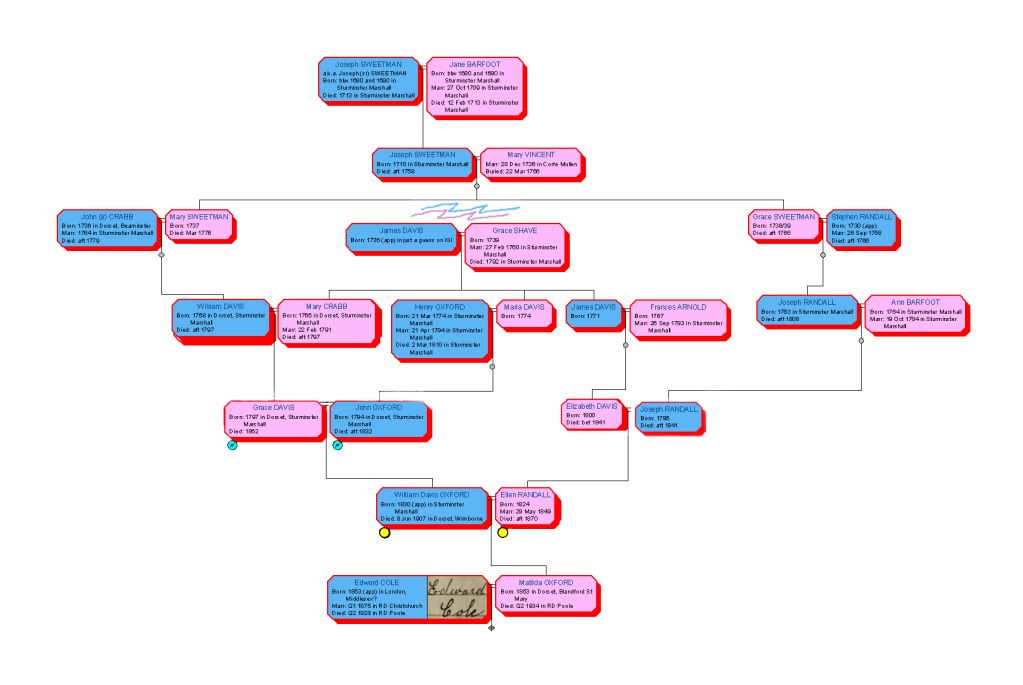 To facilitate google search: Sturminster Marshall; Frances Arnold; Ann Barfoot; Jane Barfoot; Edward Cole; John Crabb; Mary Crabb; Elizabeth Davis; Grace Davis; James Davis; Maria Davis; William Davis; Grace Oxford; Henry Oxford; John Oxford; Matilda Oxford; William Davis Oxford; Ellen Randall; Joseph Randall; Stephen Randall; Grace Shave; Grace Sweetman; Joseph Sweetman; Mary Sweetman; Mary Vincent.